The Alkaline Water Generator AW808B is capable of generating between 3.5pH to 11pH ionized water using Japanese technology and materials, e.g., Platinum Plated Titanium Electrodes for longer lifespan up to 8000 hours.
Benefits
Prevent or reduce oxidative damage, and progressive loss of bone mass, as its primary function;
Highly effective body weight reduction agent;
Alkalinity helps the kidneys in removing fluoride and similar contaminants;
Convert toxic hydroxyl compounds, or free radicals, into molecules of water, slowing down "aging".
The Okinawan experience,  where people reaching 100 years just by drinking alkaline water, is hard to impeach;
Reduce apoptosis (cell deaths), and prevent abnormal angiogenesis (cancer tumors);
Enhanced energy level and autoimmunity, overall improvement in health.
It can provide three (3) types of alkaline water:
Alkaline Water
Alkaline 3
Food disinfection and tableware cleaning
– For washing vegetable and meat to remove  pesticides;
– For washing tableware, easy to remove stain;
– For cooking soup, preserve the nutrition of food, saves cooking time;
Alkaline 2
Daily drinking and cooking
– Suitable for daily drinking to stop, or prevent loss of bone mass; relieves stomach ache, constipation, diarrhea, gout problem;
– for faster and better tasting rice;
– for better tasting tea and coffee ;
Alkaline 1
Drinking
– Drink first thing in the morning, then change to Alkaline 2
– Promoting absorption of calcium and other minerals
Purified Water
Input Water pH
Activated Carbon Purification
Input water passing through an additional high quality activated carbon filter (made from coconut shell) in the unit.
Acidic Water
Acidic
Beauty and Sterilization
– Good for shrinking pores, beating bad breath, hair hydration;
– Near to skin PH, can be used for facial cleaning;
– Ideal bath water for babies and sensitive skin and help recover from sunburned skin;
– For disinfecting tableware, furniture and carpets;
– Removes pesticides in vegetables and fruits.- Caution: Not Good for Daily Drinking.
Duty Cycle: 60 minutes continuous duty.
Special Features
AUTO CLEANING Cleans itself internally at the touch of the control pad switch.
FILTER CARTRIDGE REPLACEMENT Counts down water volume, and sets off alarm to replace filter cartridge every 10,000 liters of production output.
---
The Science
Our body is composed of water between 80% to 95% of its total mass, depending on who you ask the information from. This illustrates the importance of a high quality daily water intake.
Normally, the body maintains a blood pH of 7.35 to 7.45. But, if you check your filtered water right now, you might be shocked to find out that it's within the vicinity of 5 to 6.8 pH, or that it's too acidic!
That's the reason why your knees are getting weaker with age, even though you're feeding yourself only healthy bottled, filtered, or mineralized drinking water. This is caused by the body's desire to maintain alkalinity in the bloodstream and throughout your body. Your body's homeostatic system is forced to takes some of the calcium from your bones because your acidic water necessitates it.
Our Alkaline Water Ionizer AW808B uses Japanese technology and components to monitor and modify the pH of your filtered water, so that in time your bone structure can recover from its lost mass, and subsequently provides multiple additional health benefits:
Alkaline water makes the cells more negatively conductive at -600 to -800 ORP, which means your cells are able to deal with oxidant free radicals much faster than any other conventional protocols; In comparison, a cup of tea can only provide -20 ORP (Oxidation Reduction Potential) to your cells.
Specifications
| | | | |
| --- | --- | --- | --- |
| Model No: | AW-808B | pH Range | 3.5 – 10.5 |
| Power Supply(SMPS) | AC220V,50Hz or 110V, 50-60Hz | ORP Range | 500 to -800mV |
| Input Water Pressure: | 0.1-0.3MPa | Working Water TDS Range | 50-1000 mg/L |
| Electrolyzing Power | 5-200W | Electrolyser Plate | Titanium with Platinum Coating |
| Continuous Duty | 60 mins. | Electrolyser Plate Size | 80*50 mm |
| Electrode Lifespan | 6000-8000 Hours | Number of Plates: | 11 Plates |
| Power Consumption | 250W | Packing Size | 57*46*24 cm |
| Gross Weight | 6.5 kg | Product Size | 330*245*130 mm |
Installation
This Alkaline Water Ionizer AW808B has all the accessories necessary when installing in the following manner:
TIP: The easiest and most logical way to install this appliance is to connect the accompanying hose directly to the water filter faucet. In this configuration, you can control the IN flow of the water through the faucet, and be able to use the same filtered water that should maximize the life of the unit installed activated carbon filter [10,000L].
You can do the installation quickly by following the steps below:
Plan your installation near the sink and water filter faucet as much as possible. You will be cutting your water IN hose and drain OUT hose according to this requirement;

Use your hair dryer, or a heat gun at low temperature setting, and apply heat to soften about 2 inches of the portion of the hose that the tip of the water filter faucet will be inserted into. Precaution: Don't use an open flame directly on the hose causing it to burn;

Push the still warm hose to the tip of the water faucet, while gently twisting once in a while to facilitate entry of the tip of the faucet into the hose;

Once an adequate length of the hose is connected, secure the connection with plastic ties, or a hose clip;

Now, you are ready to connect the other end of the hose to the IN port of the machine. Don't forget to insert the hose clip first into the hose, and place it about 5 inches away before making the actual connection. Secure the IN port connection by sliding the hose clip over the IN port connection;

Connect the drain hose to the OUT port, and place the other end directly into the sink. You can use the other hose clip to secure the drain hose connection. Note: The drain OUT hose is always necessary, so you can get the type of water, i.e. alkaline or acidic, you want;

Turn on your water filter faucet and check for leaks. You will be taking all of your alkaline, or acidic, water from the flexible armored hose at the top; If all is good, then you're ready for the next task of connecting your machine to the power outlet;

Precaution: Please install your power outlet at a higher elevation than the unit itself, and away from water splashes to prevent electrical accident.
Don't throw away all of the extra parts that you're not using. Keep them all in the resealable plastic bag and box they came in with. You might need them all someday.
If you still experience difficulty in the installation of this unit, please notify us, or consult your local plumber. Certified / Experienced plumbers are properly trained and well equipped to install the unit in the right way.
Follow the User Manual faithfully when operating the unit. Your alkaline water machine is carefully engineered, made with top quality materials, and should provide you with many years of reliable service.
Using the AW808B Ionizer
Please read carefully the manual BEFORE using the ionizer. Below are just some of the DOs and DONTs when operating the machine:
DON'T use turbid water, or heavy metal polluted water, well ater and underground water as inflow. Only use filtered city, or municipal water;

DON'T use hot water, and don't connect to water heater. At above 45°C temperature, input water should not get into the ionizer. Avoid direct sunlight;

DON'T use aluminum, or copper, vessels as ionized water containers. DO use glass pitchers and drinking glasses for alkaline water ingestion;

DON'T ionize, nor consume the first water that comes out of the ionizer, especially in the morning. Use the first 10 seconds of water flow to drain away the stored ionized water;

DO drink your alkaline water as soon as possible. It's normal for alkaline water pH to drop to neutral pH 7.0 when stored for a long time, as some of the gas escapes;

DON'T switch OFF immediately after using the ionizer. Switch to Purified Water instead to drain away the alkaline, or acid water. This step cleans away the internal tubings to prevent scaling, and keep your machine always in tip top condition;

DON'T wash the ionizer directly in water, nor use volatile solvent, e.g., alcohol, to clean the ionizer body. Just wipe it lightly with soft cloth, or a cloth smeared in suds.

DO pull out the power plug, when the unit is not to be used for a long time.
There are plenty of tips and know-how that need reading and learning in the enclosed User Manual so you can maximize your investment. Please read them at you own convenient time.
Warranty
Every unit of this product is covered with 1-year limited warranty from defects and workmanship. Filter cartridges are not covered by this warranty. Please read the Refund and Return Policy for more information.
All units are tested prior to shipment…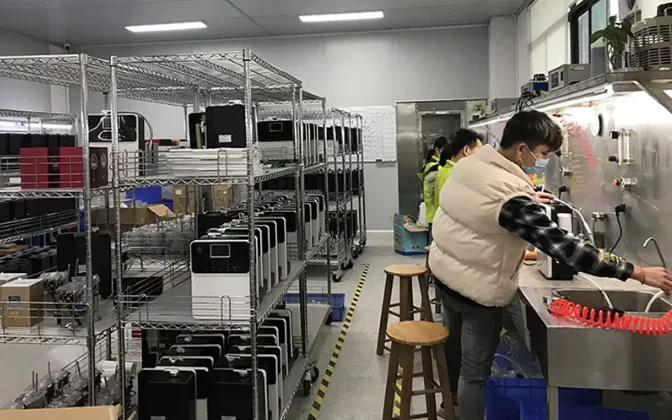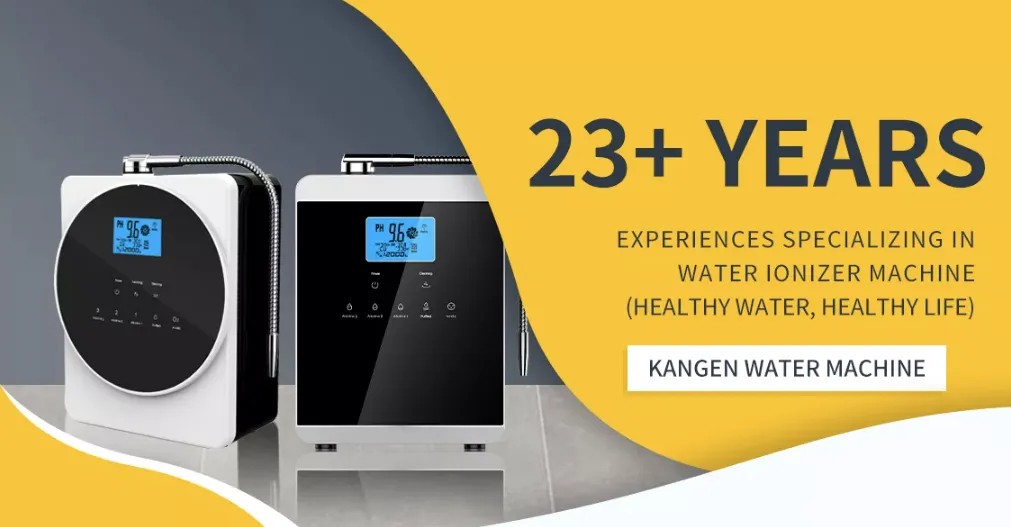 Longevity, if you want it.